CONFESSIONS OF AN (EX) NSA SPY: Why America and its allies are losing the war on terror:

What are the long-term, overarching historical laws and trends that tell us the West is doomed?
Why is "Climate Change" not a national security issue, but the hysteria over it is?
What intelligence failures, if any, led to 9/11, the Boston Marathon bombing, San Bernadino, and other terrorist acts on our soil?
Why did we turn Iraq over to the Iranians?
Why did we go into Iraq in the first place?
Did we create ISIS? If so why?
Why do virtually all Middle Easterners across the board think that the U.S. is a major sponsor of terrorism?
Is Islam truly a "religion of peace?"
Why does Washington exert such Herculean bipartisan efforts to misunderstand these issues?
What are the Islamic prophecies driving recruitment for groups like ISIS and al-Qaeda?
Why driving ISIS from the battlefields of the Middle East will not be the end of the war on terror, no matter what our government says.
All of these issues and much more are discusses in this, the only counter-terrorism book on the planet that pulls it all together and connects all the dots.

Electronic versions are available at:

www.amazon.com
www.barnesandnoble.com
After 30 June 2017, the paperback version of the book will be available only through personal book signing events, thanks to certain harassment measures that Amazon has imposed upon independent booksellers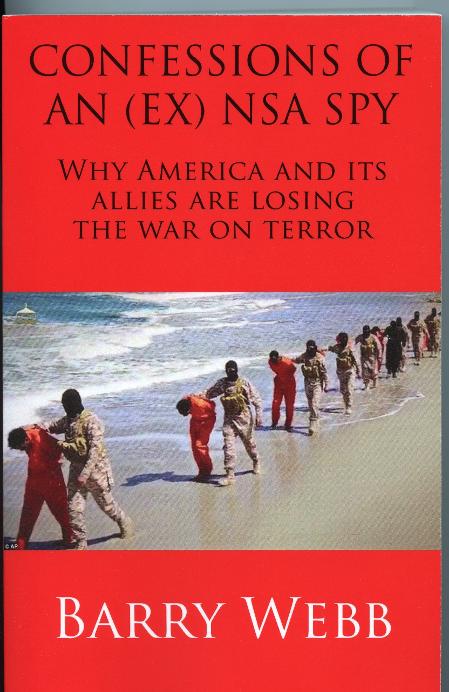 PRAISE FOR "CONFESSIONS OF AN (EX) NSA SPY: WHY AMERICA AND ITS ALLIES ARE LOSING THE WAR ON TERROR"

"The most engrossing and frightening book I've ever read. A summary of the threats and scams facing America today. Easy read . . . so well written." Carolyn Cox, President, Tucson Conservative Forum

"Webb has hit this one out of the park! A must read. Could not put it down. Read it in a week--in spite of wife, kids, and job."
Mark Lyttle, President, Sahuarita and Green Valley Oathkeepers, and Pima County Coordinator for Oathkeepers

"We would love to have you come again. The people who bought your book say they had to read it all thru at one sitting. They could not put it down." Lajuana Gillete, 1st Vice president, London Bridge Republican women's club, and region IV director for the Arizona Federation of Republican Women.

"Whether we choose to believe it or not, America is in the midst of a third world war--this time with the ideology of Islamist Terrorism masquerading as a religion. Our enemy believes he will ultimately defeat us because of our self-imposed weakness. To defeat radical Islamic terrorism, one must know the enemy and Barry Webb enlightens his readers and urges we take appropriate action before it is too late." Lt. Col. Jon Gold, U.S. Army Intelligence, ret.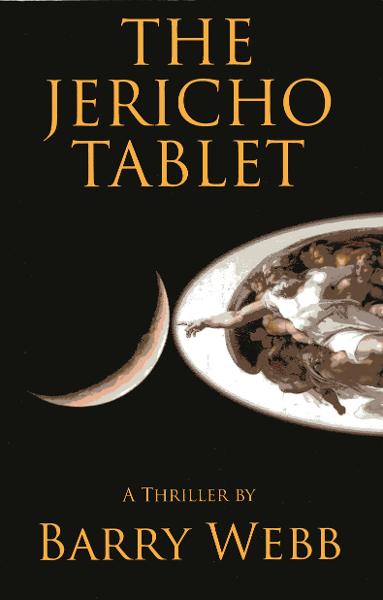 What if an ancient table was discovered that undermined the foundations of both Christianity and Islam while giving instructions for re-awakening an older god, a god who exacts frightful revenge while promising a utopia of eternal life, peace, and vast knowledge—in return for absolute devotion and loss of free will?
What if that "god" was an artifact buried just under the surface of the moon supposedly by an ancient space-faring race? What if the president of the United States had a Messiah complex and staged his own "assassination" and "resurrection" three days later in order to become the "son" of that new/old "god" on the moon?
Matt Nolan and his colleagues in the U.S. Intelligence Services have only a limited amount of time to uncover the secrets of the resurrected artifact and find a means for destroying it and corralling the president—before they themselves are destroyed.
Is it the rapture that Evangelicals have been praying for?
Is it the new heaven and the new earth prophesied in both the Bible and the Qur'an?
Or, is it the anti-Christ? The Beast of Revelations? The great blaspheme? The abomination that maketh desolate?
Or, is it something else even more sinister?
THE JERICHO TABLET serves up a captivating mixture of ancient Near Eastern history, religion, and linguistics to go along with its modern day spy craft, political intrigue and corruption, media collusion, and science—while entertaining the reader with a fast-paced plot.
For more information please, visit the book's website at: www.thejerichotablet.com
To purchase the e-book edition, please click on: www.amazon.com / Books /The Jericho Tablet